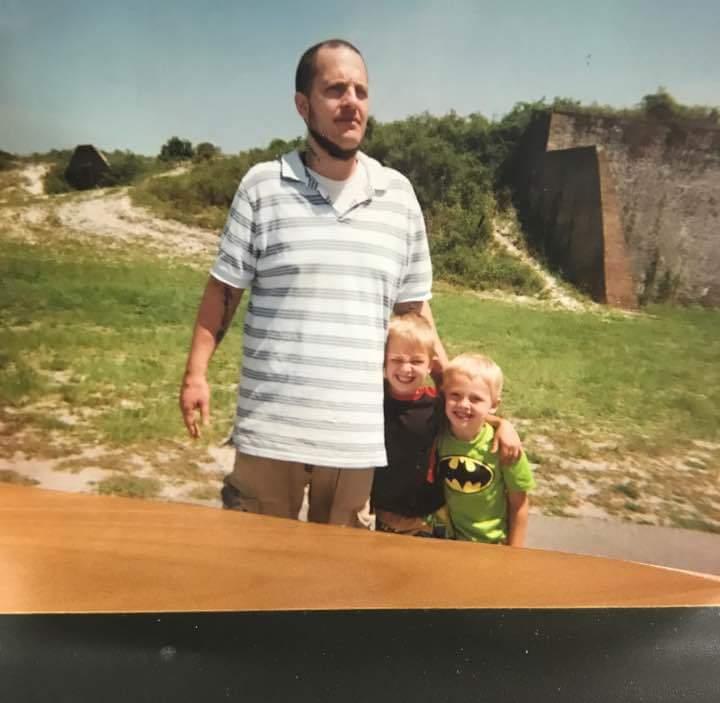 (February 25, 1976 — October 4, 2017)
Our brother Shawn was a caring person who had a great affinity for children and animals. He is survived by his two young sons, Jaxson and Baylor (pictured), who were the lights of his life.
I remember way back how patient he was with children and how he really cared and listened to what they had to say no matter how little they were or even if they were too small to say much of anything. He had the same love and patience in communication with animals and had a knack for understanding them although they could not speak.
He was an animal advocate who personally rescued dogs from a kill shelter, took them into his home, and then found them furever homes. After high school he adopted his very first dog, an Akita, from the Town of Brookhaven Animal Shelter. He was suffering from major depression and this dog (nicknamed BoBo) turned his life around.
The love between Shawn and BoBo gave him a whole new purpose in life — rescuing dogs from his local kill shelter where he got his first Akita.
He dedicated himself to saving dogs from euthanasia at the Brookhaven Animal Shelter and getting them furever homes.
The people who worked at Brookhaven Animal Shelter got to know him. The shelter workers would call him when there was an Akita or another dominant breed dog whose time was near euthanasia that they thought was adoptable with more time and maybe a little work. He would save the dog from being euthanized and take the dog home and care for it until he could find a good furever home.
May all the animals he loved and helped who are now in spirit be with him at the Rainbow Bridge! That is where he would want to be in the afterlife.
With love and wishes that Shawn find peace in the afterlife,
Tara Greenfield Chandurkar
Beth Greenfield Nalewajko
Glenna Greenfield King
Jennifer Greenfield Restivo
Kiersten Greenfield