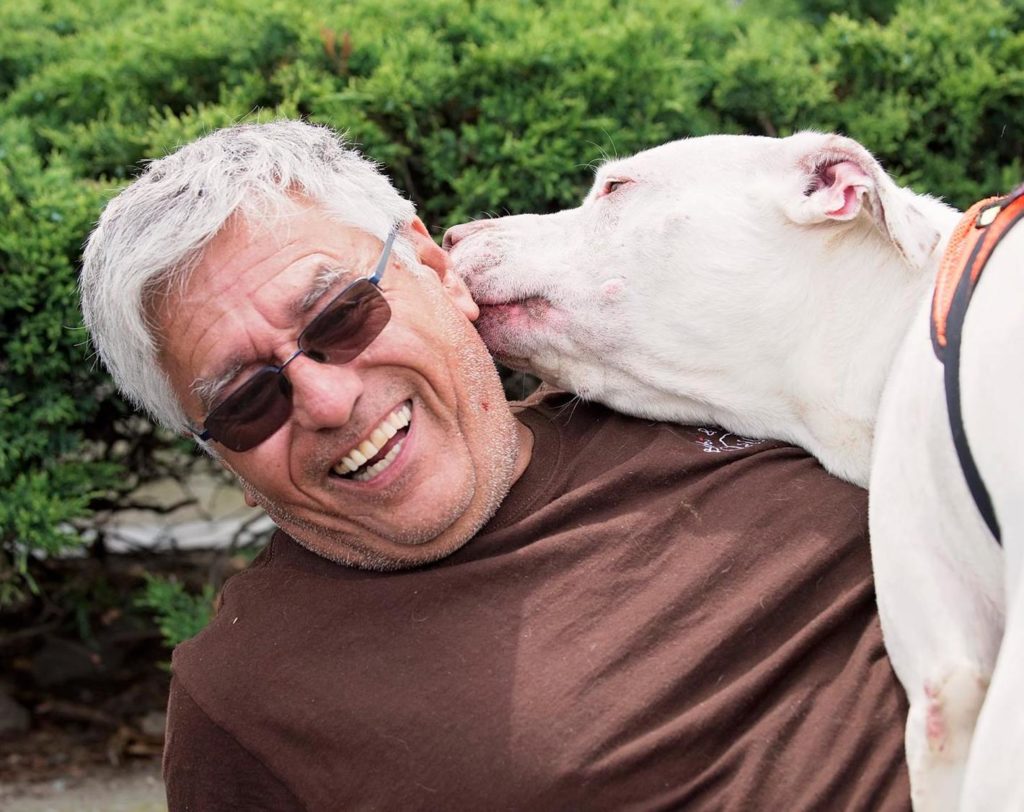 Dennis Kanyuk
All of the dogs in heaven just got a new best friend.
Dennis Kanyuk wasn't just a volunteer at Bobbi and the Strays. As a fellow volunteer put it, Dennis was the heart and soul.
He was a natural with people and animals and brightened every life he touched, human and canine alike.
Dennis was at the Freeport shelter almost every day. He and his dogs Buddy, then Lucky, and most recently, Dakota, were in the play yard daily and led weekend pack walks to help ease the stress on our dogs and teach them socialization skills.
Dennis loved shelter dogs and was passionate about finding them homes and giving them their best possible lives. Dennis once said, "People ask 'Why do you volunteer?' Well, I think anyone who does this will tell you that watching a dog find out that life can be fun even in a shelter is why we all do this. Seeing dogs that sit in a cage most of the day having the time of their life is awesome."
Dennis never gave up on any dog and always believed there was a home for every shelter animal. His sign-off on social media posts featuring our dogs was often "Give them a second chance on life" and "Come and meet your new best friend."
In addition to play yard time and pack walks, Dennis did much for our shelter and larger community. He visited schools with his dog Princess and taught youngsters how love and patience can change the world for an animal in need, and how to be a responsible dog owner. He also helped match potential adopters with the right dog, visited senior centers, helped at fundraising events, ran our dog orientations for new volunteers, and was our spokesperson on News 12 Long Island. In March of 2020, Dennis was honored on News 12 as one of their 12 Making a Difference for his volunteer work at BATS.
Dennis was a mentor and role model to many of his fellow volunteers. He radiated warmth and kindness, and his open heart made him very approachable. He was also a caring, wise, and thoughtful friend. But, things weren't always serious. He was full of life. His laugh was loud and he had a booming voice. Those who knew him won't forget the sound of either.
Dennis made a difference in this world and his loss leaves a tremendous void. But as one fellow volunteer said, "Dennis will never be gone. He gave a part of himself to each one of us."
Our thoughts are with Dennis' father, his sister Cindy, and his three girls, Dakota, Lucky, and Princess.